Sleepy baby - I hope you're not sick!

I hope they just caught you at nap time!


This is the most recent picture of 2 1/2 year old
Travis
.
It was taken in June of 2012.
When you look at this picture what do you imagine his personality to be?
Does he just lay in his orphan bed day after day?
Does he listlessly toss back and forth in boredom?
Does he stare blankly off into space with no interest in life?
Or does he have spunk and spirit and joy?
Can he walk?
Does he like to play?
Can he smile?
It's hard to say...
Unless you see previous pictures!
Here he is walking!
He looks like a happy little guy toddling off to find some toys!
It's wonderful to know that he can walk!
But there is an even better picture!
Wait till you see his joy!
Check out the amazing smile!
Isn't he darling?
Come get me Mama!
I can't wait to hug you tight!
After seeing this beautiful picture of joy...
Perhaps you can understand my concern at seeing his new picture...
I truly hope he's just sleepy...
That he hasn't lost his spunk and joy!
They may have just caught him at nap time...
But the fact is, though he may (hopefully) be doing well now...
If he is not adopted he faces a grim future...
One that will make it extremely difficult for him to keep his joy intact!
Institutionalized for life because of an extra chromosome...
With no hope of escape!
He needs a mama and papa fly across the ocean...
And bring their precious son home!
Please save his joy!
Perhaps Travis could be your son, or the son of someone you know!
Please pray for Travis and share his story to help his family find him!
If you'd like to do more for this darling boy...
You can donate to his grant fund
HERE
to help make it possible for someone to bring him home!
To learn more about how to adopt
click here
!
***** UPDATE!!!*****
A new picture of Travis!!!
It was taken in August 2012.
So GLAD to see him out of bed!
*****
It's Forget-Me-Not Friday!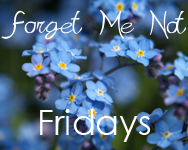 And Jane is hosting another great linkup!
Feel free to link up your own advocacy post below!
*****
From now on the Forget-Me-Not Friday link-up will be hosted on the first Friday of each month on Jane's blog. You can link up each month at Jane's blog and share the stories of the orphan's that grab your heart!