Said to be spunky...
With a beautiful smile...
His face would light up right AFTER a picture was taken...
But can you imagine it there?
See a sparkle in his eye and a bright sunny smile?
When another child's mom saw him he was very interested in what she was doing...
This Mama saw this engaging boy in 2008...
Why is he still waiting in 2012?
Sadly because he is not getting the stretching he needs during his very long wait...
His muscles are getting tighter...
How long must he wait to be free?
How long till HIS Mama comes?
How long till he knows he is special?
How long till the long boring days are over...
And he receives the love and stimulation he longs for?
Keep hanging on dear
Kiril
!
Surely your Mama is out there somewhere!
Surely your Papa will come!
I hope they will be able to see the irresistible smile that is hiding in your heart!
I hope your wait will be over soon...
And you will receive the hugs and snuggles you've been deprived of so long!
*****
It's Forget-Me-Not Friday!
(ER... one day late - but the link-up is open for a bit longer!)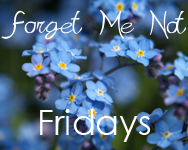 And Jane is hosting another great linkup!
Feel free to link up your own advocacy post below!