Handsome...
Smart...
Friendly and polite...
Can entertain himself for hours with puzzles...
Though raised in an orphanage...
He seems as though he's been raised in a family!
He is expected to do very well in school....
He's 7 years old...
And has already learned some spelling, writing, counting and reading!
He is even good about brushing his teeth and combing his hair...
And he likes things clean and tidy!
(His Mom will love that!)
Despite his cerebral palsy he can walk (and quickly too! - Check out the video below!)...
Since the videos were taken he has had surgery to help him walk even better!
It is so wonderful to have videos of Beau!
He comes alive in the video and is just darling!
Just wait till his Mama sees him...
She won't be able to resist his cuteness!
This first video was taken some time ago...
It shows him eating, walking, getting ready for bed, and reciting a poem...


This second video was taken early this year not long before his surgery...


What a charming little boy!
Just waiting for a family that's all his own...
Is he yours?
****
Please share Beau's story and video with others...
Let's find his Mom and Dad!
You can read Beau's profile or donate to his adoption fund
HERE!
Thanks to Daneille at
The Wonder of Boys
for the videos and some of the information about Beau!
You can read her posts about Beau below:
Beautiful Boy: Beau
New Video of Beau
*****
It's Forget-Me-Not Friday!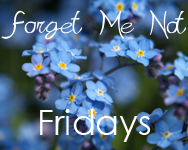 And Jane is hosting another great linkup!
Feel free to link up your own advocacy post below!