The good news first...

Thank you for your prayers -- God is working!
Jonathan
...
The young man who will be 16 on December 31...
And will be turned out on the street to fend for himself if he doesn't have a committed family by then...
(I wrote about him
here
.)
Now HAS a qualified family who are working hard to adopt him!
Please pray they can get their home study updated and all other details worked out in time...
Miracles are still needed!
Please continue to pray for him and for the family!
Please go to
Adeye's blog
for more details and specific prayer requests for Jonathan's adoption process!
More Good News!
The children from the angel tree that
Julia
was fundraising for?
As of Friday...
ALL of the angel tree children she included in her giveaway reached their goal!
At least $1000 was raised for each of them during this year's angel tree!
Read
Julia's blog
to see how much was raised for each child!
And one of them...
Artem
...
Has a FAMILY committed to him now!
My little
Paul
...
Is still waiting...
He is off to a good start with
$2197.50
in his fund (part of it was raised before the angel tree) ... but his adoption will cost more than that :(
If you are able, please continue to give to Paul and
Julia's
other waiting children ...
(You can find additional angel tree children, some of whom have not yet reached their goal
here
.)
You can help their grant funds grow even more!
Thank God for the money He has already raised...
And thank you for letting Him use you!
The Bad News...
Several children who had families who were committed to adopting them...
Who loved them and truly wanted to give them a happy home...
Wanted to give them a Mom and Dad and love...
Several of the children have been transferred to another institution...
And are no longer available for international adoption.
.
Please pray for the grieving families...
And for the precious people who advocated for these children...
They are crushed and grieving at this news.
It is reported that the new institution is much better than the old...
That the priest who runs the new institution will find families for them in their own country...
Please pray for the children that they truly have a good life...
That they will be able to have families of their own...
And pray for comfort for those who morn...
Thanks so much!
Do check it out and consider linking up a post of your own!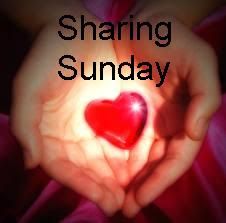 Her Sharing Sunday post for this week is
here
!