3 Precious children...
With at least 3 things in common...
1. No family
2. Arthrogryposis
3. $500 MATCHING grant!
*****
No family...
No Mom and Dad to call their own...
No Mom and Dad to tuck them in at night and help them say their prayers...
No Mom and Dad to help them with their homework...
No Mom and Dad to love and cherish them...
No Mom and Dad to tell them how very special they are!
*****
Arthrogryposis...
This basically means they have some stiff joints...
They have limited motion in some parts of the body...
Depending on what part of the body is affected this may mean they cannot walk (at this time) or have difficulty using their hands.
Medical treatment available in the US can sometimes make it possible for these children to walk and improve their independence!
They just need that chance!
*****
$500 MATCHING GRANT!!!!!
EACH of these precious children is being offered a $500 matching grant between now and October 31!
If we can raise $500...
A generous donor will give them $500 more!
There is a catch...
The FULL $500 must be raised in order for the match to be made!
Let's show the donor that these children are loved and supported!
Let's not leave them behind!
*****
These grants were offered in honor of
Rita
...
Rita also has arthrogryposis...
Until this week she did not have a family either...
When the matching offer was made Rita did not have a grant fund to donate to...
So the matching offer for Elizaveta, Aubree, and Raymond were made in her honor!
The donor has said that if ALL THREE matches are met...
There may be a bonus donation to Rita's family's adoption fund (once it is set up)...
To help them bring Rita HOME!
Now that would be a win times Four!!!
*****
Now meet the children...
I've included some hi-lights below...
You can read MORE about them by clicking on their names under their pictures below!
Despite her sad face in the pictures,
Elizaveta
is said to be smart, happy, and social...
She tries to be independent and she goes to school!
Elizaveta currently has $100 in her fund...
If she gets to $600 by Oct. 31...
She will receive her $500 matching grant...
Bringing her to a total of $1,100!!!
Let's meet the match!
Aubree
is said to "exude love and happiness"!!!
Her arms are strong and she uses them to pull herself around on the floor and to drive her wheelchair.
She likes to sing - and even sang in a concert for the visitors...
She is able to go to school too!
What a lovely daughter she will make...
Where is her family?
Currently she has $115 in her grant fund...
If she gets to $615 by Oct. 31...
She will receive her $500 match...
Which will bring her to $1,115 to help a family bring her home!
*****
Poor little Raymond is not in school...
He is in bed and is in danger of being there all his life...
If he doesn't find a family :(
We just CAN'T let that happen, can we?
Raymond's fund needs to be at $1,700 by Oct. 31 in order for him to get his $500 match...
At the present time he has $1,225.10...
If the match is met he will be at $2,200!!!
Let's get him their!
With his sad little picture I fear he is often overlooked...
He need's all the help and exposure he can get!!!
*****
Rita can walk and is developing well where she is now...
But she was getting close to the age where she would be too "old" for her orphanage...
She would soon have been sent to an ADULT instiution
(Though she's only 7 1/2 years old right now)...
But thankfully for Rita...
Her family just found her THIS week...
They are working on the adoption paperwork so they can bring her HOME!
Soon her family will have a fund to donate to...
But until then...
Let's get those matching grants raised!!!!
This opportunity is too good to pass up!

Let's not let these kids lose this matching opportunity!
These kids NEED us!!!!
Even if you can't donate at this time...
There are other ways to help that are just as important!
You can share this matching opportunity with others...
You can share these children's faces and their stories...
Facebook, Twitter, Blog, E-mail, Word of Mouth...
You never know if one of your friends or acquaintances might be their family!
And most important of all you can pray!
*****
Oh, and don't rule out the possibility...
That one of them just might be YOUR child!
To learn more about how to adopt click on the link below:
*****
In whatever way you can...
Please help them!!!
They need our voice!
****
Details of this matching opportunity are from Arthrogryposis Adoption blog...
Please read more on their blog at the link below...
http://arthrogryposisadoption.blogspot.no/2012/10/three-matching-grants-in-ritas-honor.html
By the way...
The faster these matches get met...
The bigger the bonus donation to Rita will be!
Meet it today - she gets a lot...
Meet it at the last minute on Oct. 31...
And Rita gets LESS...
Hurry! we have some matching to do!!!
Read more about the mysterious bonus
HERE!
*****
Let's not make them wait forever!
Share, share, SHARE!!!
Victoria's bag-a-thon auction was successful!
I loved seeing her grant go up!!!
Thanks to all who participated and made this grant growth possible!
*****
This post is part of the
Forget-Me-Not Friday link-up
hosted by Jane!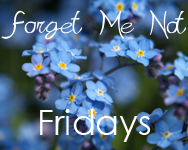 And consider adding a post of your own to the link-up!