14+ years...
168+ months...
728+ weeks...
5040+ days...
120,960+ hours...
7,257,600+ minutes...
435,456,000+ seconds...
How much longer till my Mom sees my picture?
How long till my Dad knows I'm his?
Will I be here forever?
Will no one claim me?
14 years is too long...
Much MUCH too long to wait for a family!
But more dreadful than this...
I have less than 2 years...
Till it's forever too late...
Till I age out of the system...
And lose all hope for a home!
Then I'll learn what forever means...
Forever institutionalized with no hope of release...
Oh forever is MUUUUUUCCCHHHHH too long to live in this miserable place!
Please, PLEASE don't forget me...
I've waited SOOOOO long!
Will you be my family?
Will you share my face?
Will you pray for me?
Your prayers and shares make a difference!
Please don't forget me!
To read more about Emmitt or donate to his adoption fund click
here
!
It's Forget-Me-Not Friday!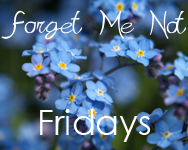 And Jane is hosting another great linkup!
Feel free to link up your own advocacy post below!