Victoria
's smile lights up the room! This precious girl is 8 1/2 years old. Because of her age and her arthrogryposis she has been transferred to an institution where she is bedridden! If she is not adopted she will stay in bed for the rest of her life! It's no wonder these children often regress from boredom and lack of love and stimulation. Imagine -- what in the world could you or I do to entertain ourselves in bed day after day? Count the ceiling tiles? Cover our ears to get away from the moaning of our suffering companions? Count to 1000 (or 1,000,000)? Try to say the alphabet backwards? (I wonder if anyone taught her the alphabet forwards?) Try to remember all the wonderful memories of times gone by? I wonder how many good memories Victoria has? Perhaps she has some memories of loving caretakers at the baby house or friends or toys there -- but she doesn't have the good memories she should have. She probably has some bad memories too.... She needs a family to help her make good memories! I'd love for her to have trips to the zoo or the beach. Hugs & Kisses from Mama & Papa. Playing dolls with a sister or friend. Storytime with Grandpa. Helping Grandma in the garden. Playing with a puppy.... Perhaps they could help the painful memories to fade.
Victoria has arthrogryposis, so her legs are stiff & her feet are twisted, but with proper treatment available in the US I think she has a chance of learning to walk! To see what can be done with medical treatment check out
this pos
t about Gerri, a former orphan with arthrogryposis -- she is making great strides!
Here
is a video of Gerri walking.
Victoria needs to be rescued soon. Judging by the following note that is posted on many of the children from her institution (#1), she REALLY needs to get out of there fast!
As with all children living in these difficult conditions, this child's cognitive development has regressed significantly since he/she was younger. It is of crucial importance that any family considering the adoption of an older child from the mental institution setting be well prepared for what to expect with regards to how the neglect and lack of adequate medical care and nourishment has affected this child. These children all have TREMENDOUS potential for improvement, and deserve to have a life outside these four walls.
These children are truly living on borrowed time, and families should be home study approved before an official commitment can be made for this child.
To read more about Victoria click
here
! If you know someone who would like to be her Mama or Papa -- please share her story with them! Her birthday is December 12 - just over 5 months from now. I'm praying that her family finds her fast and that she can be home for her birthday! Will you join me?
One more thing,
Jane
has begun a blog linkup each Friday featuring waiting children that are dear to the hearts of those who write about them. Check it out! You can join and advocate for your favorite orphans too. If you let her know in advance that you plan to link up she will post your orphan's picture in her Forget-Me-Not-Friday post! The linkup is not limited to posts about orphans though -- click
here
to find out more.
Click this button on my sidebar on Fridays to check out the Forget-Me-Not-Friday post and linkups! Or click it any day to check out Jane's blog.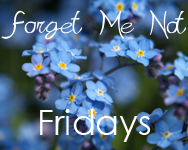 Jane is raising money for
Francine
's adoption grant fund -- if you can help her, I know she would appreciate it! Here is a picture of her button! Anytime you are able to contribute to her grant fund you can click her button in my sidebar and you will be taken to Francine's Recce's Rainbow page where you can donate.